Mark McCabe MSc, CSCS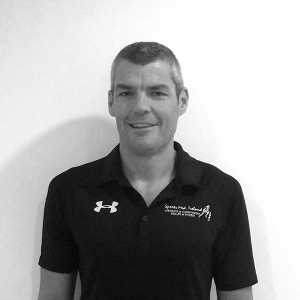 Mark is the director of Sports Med. Ireland.  He is a Chartered Physiotherapist with a Masters in Sports Medicine and is also a Certified Strength & Conditioning Specialist.  Mark has extensive experience in the field of Sports Medicine has worked with athletes of all levels from many backgrounds.  His roles, past & present include:
Physiotherapist /Strength and Conditioning coach to Irish Olympic Sailing team (2006-present)
Past Physiotherapist and Strength coach to Derval O'Rourke (Bronze medal European Indoor Champs Turin 2008, 4th place World Championships Berlin 2009, Silver Medal European Champs Barcelona 2010)
Consultant to IRFU National squad 2003-04
Physiotherapist to Irish U21 Rugby team 2002-03
Physiotherapist /Strength and Conditioning coach to Clontarf RFC 1999-2002
Mark is currently working with the A squad in Portmarnock Amateur Swimming Club in the role of physiotherapist and Strength & Conditioning coach.  His main work involves the development of a junior strength & conditioning program with a focus on the development of fundamental movement skills and reducing the occurrence of injuries, particularly to the shoulder girdle and trunk, which are common sites of injury in swimmers.
Website: www.sportsmedireland.ie
Instagram: https://www.instagram.com/sports_med_ireland/
Facebook: https://www.facebook.com/sportsmedireland.ie/
Twitter: https://twitter.com/Sportsmedirl